I suppose it all applies:
(Bitch alert: On the ID voy boards, someone used the word "sequence" when they meant "sequins"…makes me want to take my red pen and mark up my computer screen!)
I could have sworn I did a post about sequin appliques years ago, but maybe not.  And sequins are back…I cannot tell you how happy I am not to be making dresses anymore.  I know, there are worse things than sequins (tissue lame, acetate, lycra, silk velvet, brussel sprouts…), but satin stitching over the edges of sequin appliques was always an activity that left me twitching because it was NEVER as smooth as satin stitching over flat fabric…no matter what I did, and I did it all.  It was a lesson in artistic humility…do your best and then stop looking at it!
Susan taught me to use the same solvy topper that we use when embroidering on velvet.
This works in 2 ways: first, it keeps loose sequins from flying off wildly and blinding you or getting into your machine works or ending up in your dinner casserole (ask me about that sometime); and second it can help smooth out the edges of the applique where you have cut the sequins…notice I used the word "help."  Cut sequins have a mind of their own and never lay flat so your satin stitching looks like it has been done by a toddler even if you have digitized it all perfectly!!
So,  is it possible to have great looking sequin appliques?  Yes, with a little extra work.
I use two separate running stitch lines for the applique tackdown which helps keep the perforated sequins flat. Then, when cutting the applique after tackdown, I take the time to remove loose or especially sharp sequins around the edge. In my more OCD moments, I have totally removed all sequins from the edges, but this is time consuming and really not cost effective.
If satin stitching by hand, go over the edge twice.  I suppose you could digitize the design to go over the edge twice, but I have found that most home machines can get stuck with the extra bulk and/or put holes in the fabric because the stitching is more dense. My commercial machine can handle the bulk, but I do not care for height of the resulting satin stitch.
If the design is digitized and the computerized machine is doing all the work, I have found the edges look best when I use a tearaway on TOP of the applique after trimming.  Since the tearaway is stiffer, it is harder for the sequins to move and poke up, especially if there are two running stitch lines for the tackdown. This does of course run the risk of leaving you with some fuzz when you rip off the tearaway, but that is easily removed and wears away rather quickly.
I used the tearaway on top of this cute little patch: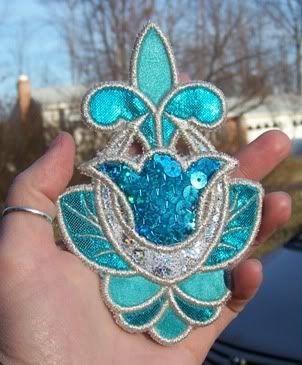 (I always think these ID dresses and patches are so delicate, but I actually found this test patch a few months later after it had accidentally gone through the washer and dryer, and it looked perfect!  It was a quiet, proud moment for me and my patch…)
I did use the solvy on the sequins on this sleeve, but this is one that I sat and removed every last loose sequin…it served to calm my mind at the time since all the fabric on this dress was so delicate and expensive.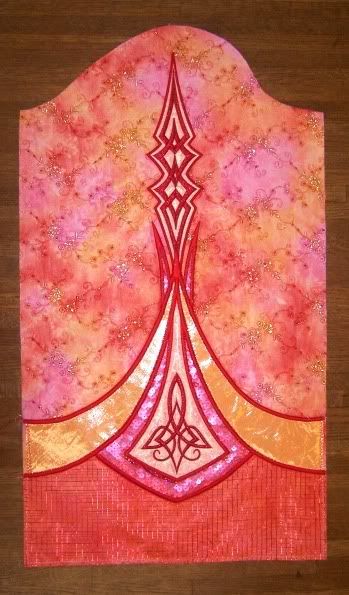 I used tearaway on these appliques.  I also had extra help keeping the edges smooth because there is another copper fabric covering the edges…you can see it in between the copper satin stitching.
There was a long post about satin stitching in general here: SATIN STITCHING AND APPLIQUES
Happy sewing!
Slowly but surely, yes, new things are happening.  I decided last year that I needed to make Taoknitter Arts designs available for automatic purchase and download…and the site is up!  Little did I realize what an extreme undertaking this was going to be!  The sheer time involved in just getting designs ready, converted and then uploaded has been staggering.  So, the site does not have the full catalog of designs up yet, but we will get there.
You can see the new site here – Taoknitter Arts: Irish Dance Dress Designs & Embroidery
Photos of all the designs can still be seen on Flickr.  If you want to see all of the design parts with dimensions and prices, just write to me at taoknitter@gmail.com and I will make it happen.
And I have recently updated my Customer Creations gallery with all of the fantastic work done by dressmakers using Taoknitter Arts designs.  I am so impressed!  Please visit Customer Creations to see all of the creativity!  If you have a dress and a happy dancer to add to the gallery, please just let me know.
So, the old Taoknitter Arts is now a blog for my Irish Dance dress embroidery information to separate it from this Taoknitter blog about actually sewing Irish Dance dresses.  I am still trying to organize the information, but you can get to that embroidery blog here: Taoknitter Arts
I hope I can keep it all straight!
I have been thinking a lot about what it takes to create a good fitting Irish Dance dress.  Not only have Susan and I been talking about it, but there have been a couple of things that have set my brain going…again.  One has been the recurring statements on the boards that the dresses from the ID dress companies capable of big volume "fit like a glove" when pics posted belie that fact as you can plainly see shoulder seams that are 1/2″ too high at the neck, wrinkles at the waist/bust/armscyes, shoulders are too wide, necks gape, zippers pull, hips pull, stomachs pull, chests pull…does "fit like a glove" mean that it fits tightly since it rarely means it fits the wearer correctly?!
Now, some will say that long distance dressmaking is difficult so some error should be expected, but I say that if that is your business, then you should learn how to make it right, especially if you are charging the outrageous sums that those companies are!  I am sort of sorry if I offend anyone with this, but I think that if one spends a mortgage payment on an ID dress and it does not fit well and the construction is not impeccable, then you should be sending it back at the company's expense to be fixed and not accepting the crap they hand you!  But instead, it seems that folks are more willing to put on the "Emperor's New Clothes" 3-D glasses so they can believe the crap they get is the best they can get!  What is that?!  (Ooh, and don't get me started [again] on the deplorable construction that folks [still] accept.)
Now on to the second thing that has set me thinking about fit again…I have started working with a seamstress who is new-ish to ID dressmaking, new to making school dresses.  I have been working with a teacher of a new school, and in getting to know him and this dressmaker, I found myself rather involved (call it "pay-it-forward," Susan).  I went for another meeting about 2 weeks ago so I could help her work through the bodice pattern. Now, she did not understand that even though she had taken all of the necessary measurements to decide on the appropriate Feisdress pattern, she still needed to check all of the other measurements against the pattern to make alterations to ensure that it fit the dancer.  She had simply cut out the bodice pattern as presented and was confused about why it did not fit the dancer. 
I arrived that day thinking I was going to have to teach her the logic needed to alter a pattern, but once I got going, it became clear that she actually did know how to alter a pattern…and right behind me was a rack of altered non-ID patterns that clearly showed she understood how to expertly fit a bodice.  So, I asked her why she hadn't checked the Feisdress bodice before she cut out her muslin, and she said she had assumed that since she took so many specific measurements to begin with that the pattern must have been made to those specs. 
I wondered then if a lot of folks make that assumption.  How many folks order the Feisdress pattern thinking that it will simply fit their dancer because the upper chest measurement is correct?  That upper chest measurement ensures a good, close fit of that tricky part of the body, but the rest of it must be checked and altered to ensure the entire thing fits, and I am not talking simply about the bust and waist.  We have neck widths, slopes, side lengths, bust & waist widths, full lengths, etc….to achieve the close, perfect fit required of an ID dress bodice, so much must be measured and checked.
Since then, Susan and I have both received emails asking why the pattern does not fit "the way the patterns I buy at the store do?"  Ok, do commercial pattern buyers really believe that the pattern they buy based on bust and waist measurements will really fit perfectly?  Most are loose enough that we can go with the flow, but if a close fit is required, we will have to adjust the pattern to fit our respective bodices.  There is no perfect pattern unless you want to send your measurements to Susan to have her make a custom pattern just for you!!
Susan and I have this running conversation going about how most people alter patterns so they look right on us or our children.   I think that most folks use the eyeballing & pinning technique to make a pattern fit, but while that can work for the dancer you have constant access to, it is hit or miss if you don't.  So, what's a dressmaker to do???
Learn the logic of patternmaking and altering.  There are books out there that explain things from a variety of viewpoints, and you can learn from them all though of course most authors feel their way is the ONLY way.   We do have an incredible resource in this group in our own Susan Gowin who created the Feisdress pattern.  I am obviously a fan or I would not be her partner in crime, and the day she explained her pattern to me and showed me how to use and alter it changed my approach to sewing forever (cue the violins).  I always had a good eye for what did not work, but once I went to Susan University, I understood the whys and wherefores.  Learning how to alter a pattern to fit a specific set of measurements made everything easier and faster.
I keep telling Susan she needs to put her approach to altering a pattern into a book or at least a PDF that folks can purchase…nudge, nudge…  I know she has her measurement sheet available to IDD members which is a gift!
(The author of this post, Paddy Kelleher, has graciously allowed me to post this tutorial which is fantastic.  Thank you, Paddy!)
For this embroidery I consulted the talented
Summerset
. She uses a lot of lattice in her wearable art pieces so I asked for some advice, which she graciously provided.
Lattice satin stitch all-over embroidery
The pattern is on left. On the right is a tracing on reverse on right. Again I have used a satin fused with cotton interfacing for the base, with the upper fabric in a cotton velvet. The darts are marked on the bodice and thread traced through all layers.
I sewed on the pink applique at neckline to have an end point for the embroidery. Sometimes you end up with a gap otherwise. The straight stitching lines follow the grid. This stablizes the layers and shows where to stitch.
Keeping the line straight to do the stitching was a challenge for me. I wanted to stitch at an angle. I also found it better to stitch over the straight line with the line being just covered at one side by the stitching. If I tried to centre it I got crooked.
I did not go through the dart area because I wanted to do as much as possible in the flat. I left one square blank on the side of the dart and then finished the stitching once the darts were sewn.  The stitching in flat nearly completed. I kept missing areas and would have to go back to them.
The darts are sewn, the fused satin was trimmed away and the dart was catchstitched open.
Dart is sewn and the gap in embroideryshows. It looks like my lines match up-Yay!
Stitching complete, but the bodice hasn't been trimmed to size yet. This dress is still in production, so I will get some pictures up once it has been completed.
ETA: Here is the completed dress…beautiful, Paddy!
…and it was making ME even crankier!! 
A client sent me fabric to embroider.  Velvet.  I have not met a velvet I cannot embroider…until now.  I have worked with a huge array of different stretch velvets, microfiber velvets, cotton velvets, very plush velvets, silk velvets (my least favorite for embroidering, let alone sewing no matter how beautiful it is), and the longest haired velvet I have EVER encountered!  But this was the most difficult, so there was much snarfing here the past few days as I tried to figure this out.
They interfaced, stabilized, and marked the fabric perfectly!  Perfectly.  Sent me a perfectly finished piece for the testing I always do before I set upon the actual dress pieces.
The first test sucked.  Look at this puckering!  Erg!!
The second test was still bad even though I steamed the hell out of it at the risk of leaving marks and even tried to pull it apart which did not happen without some effort:
So frustrating,  I try to keep costs down, but this was looking like I was going to have to purchase a variety of stuff to try to solve this problem.
I went back and forth about asking my fellow dressmakers for help because I was sure I was just going to have to bite the bullet and re-do the whole thing, but I posted my dilemma to my Taoknitter forum just in case.  Well, Katherine reminded me I might need to change the needle (which I did) and suggested I might want to try an adhesive spray even though I avoid the stuff like the plague because it sets off exploding migraines.  I was ready to buy the stuff.  Then maid2feis chimed in (she never posts her real name, so I won't post it here either) to suggest that I use a fusible webbing to get the interfacing to stick…………………there is a reason I love those women on the forum!!!  It worked!!!!
Thank goodness!  And thank you maid2feis!!!!!!!!!!
Now, I am still not sure why this velvet was so difficult.  It did not look or feel any differently than any other stretch velvet I have encountered.  The fusible cotton interfacing looked the same.  But none of it adhered the way I am used to.  After really fusing, steaming the test piece, all of the glue was gone from the interfacing, but it did not stay stuck to the velvet.  The velvet really did not seem to be any different than any I have used, but it was like teflon in terms of the adherence of the interfacing…it must be the velvet, yes?  Are they including teflon in the mix these days as a stain resistor?  Is there a new polyester out there that resists fusing?
Well, Mistyfuse came to the rescue.  Interestingly, I could still pull the velvet off the now Mistyfused interfacing, but it was much more difficult, and it stood up to the embroidery.  Weird
Isn't it time for velvet to bow out of Irish dance dresses?  I'm ready.
So there I was, working on some shawl patches for a client.  Beautiful silk velvet…I would be happy in silk velvet sheets.  I was using the sticky back stabilizer in my hoop because these are patches, so everything was prepped the way I always do, the topper was doubled, all was basted into place…and 20 stitches in, the thread breaks.  I re-thread the machine, rub the needle with some silicon to help things along, and re-start.
15 seconds later, the thread breaks again.  I fix it, re-start…10 seconds later it breaks again.  My ears are starting to steam mainly because every time a thread breaks, my machine BEEPS & BEEPS & BEEPS in a high pitched tone that drives me insane.  Just so this blog does not become x-rated, suffice it to say that my frustration hit dangerous levels and I almost knocked that machine through the wall.
Why was this happening?  Well, because I was embroidering on SILK velvet on top of sticky back.  The silk shed more fibers than anything I have ever used and it also picked up huge amounts of the gummy stuff so that every few seconds, I had a ball of stuff at the top of a thoroughly coated needle and the machine would have a fit.  I cleaned it out top to bottom to no avail.
I resigned myself to standing there, in front of my machine, taking deep, cleansing breaths, swearing up a blue streak as these little patches that should have taken 30 minutes tops, including fabric trimming, took me 2 1/2 hours.
That same day, I get an email from Colleen Murphy.  I had just sent her some designs for her daughter's dress, and because she was having to re-hoop for a big bodice design, she was using sticky back…and her thread was not only breaking, it was shredding!  The dressmaking gods were in a really bad mood.
I called Susan.  I am thinking there has to be a way around this, that there has to be a way to coat the needle with something that will repel the gummy silk lint and help Colleen.  Susan and I start tossing it around, and suddenly, Susan says, "Waxed paper."  Ooo.  Was this another genius moment?
She and I talk a bit about whether or not to use it on top or the under the sticky back, but I do not remember now if we came to a conclusion.
I write Colleen back with several suggestions, including the waxed paper idea.
She writes back to say it worked beautifully.  Her thread stopped breaking and shredding.  I was psyched because I was prepping a big skirt job using what looked, felt and behaved like more silk velvet.  Colleen used it on top of her solvy topper, so I asked her if it left any tiny pieces.  She said no, that she was happy with the way it looked.
First thing I have to do is make two long appliques for a belt for this dress which meant I had to trim this velvet which was going to leave all sorts of silk fibers everywhere which was really going to test this waxed paper theory.  I took a breath, put the waxed paper over the solvy topper, and began.
The first applique, after trimming, stitched out without a single break.  15 inches of dense stitching with metallic thread…45 minutes of non-stop embroidering.  I was stunned.  There is always a break or two, sometimes more with metallic threads.
The next applique only stopped once.
Here they are:
And Colleen was right, the paper just came right off, no bits.
So, I do a test for the skirt design using a different velvet, but I use the waxed paper anyway, just to see what happens with this design.  Here are pics of the process:
Waxed paper over the solvy, basted in place –
Stitching out beautifully…not a single break –
Finished design, paper beautifully perforated –
Tearing it off first –
But this time, there are little bits that I cannot overlook –
See the "rough" edges?  I start to pick all of those off, but I know that if I have to do this on 13 separate pieces of embroidery on this skirt, I might lose my mind.  This will make me very cranky.
I contemplate putting the waxed paper under the sticky back, but something tells me that might be a moot point.  So, what if I put it on top of the sticky back?  But then why use sticky back at all since it won't be serving its purpose of anchoring the fabric in place so I can hoop it according to the placement lines on the skirt?
So I try it this way:
(See the end of this post for simpler instructions if the thought of being this ANAL makes you twitch!)  Around the design area, I added extra placement lines that were then stitched out onto the sticky back –  
Using half the design template, I cut pieces of waxed paper –
I laid a piece on one side of the central placement line –
…and the second half on the other side –
I left an open area of sticky between the 2 pieces –
Why?  Because I did not want my center line to slip around as I was placing the fabric on the sticky back.  I also had the sticky exposed around the design area to hold the fabric as well.
So, I stitched out the design…with no breaks, no huge lint and gum build up –
And I am doing a little jig around my embroidery room -
I ripped off the solvy fast to get this pic, so there are a couple of pieces, but it looks great!  Much better!
Is it more work?  Yep, but sitting there pulling all the ittybittyteenytiny pieces of waxed paper off would take me WAAAYYYY longer.
Yeah, genius moment, Susan.
UPDATE:  I could not continue to be this anal, so now I just hoop a length of waxed paper under the sticky back, and off I go.  In fact, because I have now found the best sticky back ever (strong and thicker) I do not always use a tearaway as long as the fabric is fused with a good woven cotton.  Works beautifully!
A while back, dressmaker Colleen Murphy contacted me about collaborating on a very cool project: an ID dress reproduction of a full sized, hand embroidered velvet dress…for an American Girl doll!  I was intrigued so, of course, said yes.
The original dress is unbelievable!  Black velvet, orange crocheted collar, and some of the most interesting & beautiful Celtic/Irish hand embroidery I have ever seen.  I will admit to being intimidated on SOOO many levels, but the challenge could not be ignored.
Colleen is game for me to write about this, and I will include pics of my work, but I will not post pics of the original dress until I am sure it is ok with the owners.
Photos arrive…and I sit there and stare…and stare…and stare some more.  So many things are going through my head about  colors, stitches, faithful reproduction, artistic license… have I bit off more than I can chew?  I dreamed about this dress and how the gryphons and lions chased me while I was trying to thread a needle! 
My biggest obstacle was dealing with my "feelings," my philosophy on faithful reproduction.  Besides the fact that neither my embroidery software nor machine can manage a chain stitch, there is the integrity of someone else's artwork to consider.  As you may know, I am a retired dance professor/dancer/choreographer/artistic director…the issues of artistic integrity are part and parcel of who I am on so many levels.  My master's degree encompassed directing and Labanotation/movement analysis, and it is this training in Labanotation in particular that honed my focus on/obsession with faithful reproduction. 
Labanotation is dance notation, a logical though complex system of symbols and rules used to first record dance and then to reconstruct it again on new people, sometimes decades later.  If you are interested, you can learn more here: Labanotation.
Not long after I got to grad school at Ohio State, I changed my concentration to include Labanotation.  I was fascinated by and drawn to this extremely logical approach to dance.  Now, I am sure my professors would tell you they shook their heads many, many times at my emo approach to dance in general, but I will never forget the day I let the logic take over…Vera Maletic gave me a very rare smile and nodded her head before turning away to bark at me to do it again!  Not only did my symbols need to precisely record illogical movement, but when I read notated scores and performed them, it better look the way Doris Humphrey demanded decades before!  It was a very intense LOVE/HATE relationship.
So, here I was 24 years later, looking at someone else's beautiful art with the intention of reproducing it.  I swear I felt Vera thwack the back of my skull.
The animals were glaring at me, so I chose a knotwork braid to start with.  That I could handle easily.
Now, I have not ever done anything as small as was going to be required here, but I knew that I could not do this the way I would if it were going to remain full size.  So, even though I did the original digitizing in a decent size, instead of outlining all of this with a satin stitch, I chose a backstitch to approximate both the look of the chain stitch outlines and to accommodate what I knew would end up being very narrow lines.  But, after doing this design, I knew I was going to have to do a test dress to get a real feel for the size and to get a sense of stitch density for something as small as the designs on an AG dress.
Colleen sent me pics of her pattern pieces & dimensions so I could digitize the outlines to use as templates.  I then used one of my designs.  Even though I have not done mini-designs, I have enough experience by now to know that if I used the same stitch density that I use for the ID designs, I was going to be tunneling to China!!  Too many stitches in such a small area was only going to pull in, and perhaps make holes in the fabric no matter the pull compensation, so I lightened the density a lot.  Here's the result:
And here is it finished…I am so tempted to buy an AG doll for the youngest Diva!
(I feel the need to say here that I so admire that Colleen likes doing these little dresses, and she does them so well!  I have this psychotic aversion to sewing things with small pieces which is why I am not a quilter…these dresses qualify as beautiful small things that make me twitch!  I know I do applique with small pieces, but like every other psycho, it is the context…it goes on a BIG dress.)
So, I learned I was right about stitch density.  The test turned out well…and everyone in my family got a big kick out of this tiny little dress.  Even the macho hubby talked to it like it was a gerbil…
The next design I tackled was what I call the Nessies:
This design took me days.  Why?  Because I kept finding myself mired in choices…colors (decided Colleen can match colors since she has the dress, but still wanted to match as closely as possible so the client could have a visual); stitches (leave plain or play with texture?); overs and unders (fix them so that they make sense or keep them as they were originally stitched?); symmetry (make things perfectly symmetrical as I imagine they were intended and as I can with the computer or stay true to the actual pics keeping in mind that over the years the fabric changes and hangs differently now?); handmade look versus computerized perfection…haven't there been more than a few artists driven insane by the demands of their art?!?  Ya know Van Gogh and that ear…???
I cannot count the number of times I would find myself just sitting in front of the computer contemplating the photos…I imagined how much of it was done in the company of other women doing exactly the same thing.  I wondered how many mistakes occurred and were then simply incorporated because the embroiderer got caught up in a conversation with her fellow stitchers.  I wondered how often the zen of the repetitive needlework sent the embroiderer on a quiet journey of her own…and then I would start.
I decided that if this were me doing the hand stitching, I would work for symmetry.  I would work for the logical progression of the overs and unders, but I would get over myself when the logic failed.  I decided I would follow the handmade lines but clean things up when unique moments took on the aura of a mistake.  I decided I would try to keep the look of its handmade beauty while using my technology to enhance it where applicable.  I decided less was more…and that was hard!!
And this is what I have so far:
And here are the dress pieces:
This weekend, I will do another test.  I will post pics of it, succeed or fail.
(Ya know when you suddenly feel as if you have never spelled a word before, so you look it up, are surprised by the spelling, and are sure you have been spelling it wrong all your life?!  Having issues with "camouflage" this morning…now singing "kamooflayge" as a mantra…I know, now I am saying it wrong, but I will know how to spell it for the rest of my life.)
A mom wrote to me as she begins working on her young dancing daughter's first solo dress.  The little one is thicker around the middle.  Since I have some experience with that because of my oldest diva, I told her I would write about how I dealt with it…and since I have been digitizing 'til I am dreaming about creating food out of embroidery stitches in my sleep, I figured a little writing break was in order.  I am by no means an expert in dealing with this figure (I just slap a shapeless shirt on my own [say that 10 times fast: slap a shapeless shirt, shlap a slapesesh shirt, shap a shapish sh...]), but I have a couple of dresses under my belt and perhaps some readers will offer their own experiences and suggestions as well.
We all know that there are certain silhouettes that look good on different body types.  There are certain silhouettes that certain body shapes shy away from.  Some people wear whatever they want, whenever they want, whether they should or not, and I say more power to 'em!  But Irish dance, not unlike other dance forms, does dictate a certain dress "look."  I was glad when the teeny-tiny bodice on top of the gigantoid skirt became a thing of the past as it was a rare child of any shape who looked good in that.  Don't really know why, but the wide skirts always reminded me of the Flying Nun… and I always felt I was looking at a costume that would fit right in with this group below -
Am I right? Ever hear of "The Triadic Ballet," Bauhaus, or Oscar Schlemmer?  More info here if you are curious: Bauhaus
That overwhelmingly wide, stiff triangle look was particularly unforgiving when it was under a thicker torso.  It was a good thing when the waists started to drop, and even better when the skirts began to narrow.  Now we are seeing some extreme dropped waistlines…nothing better for making all but the skinniest minnies look like sausage tubes (brings back horrid anorexia-inducing memories of college and gray unitards and clanging gongs and a hippie choreographer who never came to rehearsal with her feet on the ground, if you get my drift…)……..deep sigh.
There is a freaking point here somewhere…
…yes, kamooflayging thicker torsos to create an attractive balanced look for the incredibly logical creation that is an Irish dance dress.
There is always the usual use of dark colors over all, as well as using darker colors strategically so that brighter colors can pull focus.  There was a time when it was de riguer for ID dresses to have a bright color down the center of the dress while the bodice and skirt sides were darker.  Those were passing when I started with my girls in ID.  You do see some of that still but it is not as stark a use of contrasting colors as it used to be.
So, off to the fabric store you go.  You want a color that complements your dancer's coloring, obviously, but make life a bit simpler for yourself by letting the dancer loose to be drawn to the colors she likes.  It is rare that a dancer (or anybody, for that matter) will claim as their favorite a color that looks bad on them.  You may not like it, but hold it up under your dancer's face to see what happens.  It will probably work beautifully. 
A few years ago, I brought a whole box of fabric to begin working with a 10 year-old.  Susan had given me all sorts of things that I loved as well as some that made me cringe.  This red-cheeked, slightly sallow little dancer went straight for this bright coral metallic silk that set my teeth on edge.  I knew she had to be wrong, but when we held it up, her complexion brightened, her red cheeks turned pink, and her eyes sparkled!  This is the dress:
I have since always trusted the dancer.
In my diva's case she chose plum.  She was young yet, but we both wanted something a bit more understated than the bright flourescent colors that were still the rage at the time, so no dramatic color shifts for us.  This is her first dress (I just realized that we were a bit ahead of out time!  Applique was still what everyone was doing, but we did just embroidery!):
Now, it is rather subtle, but you can see that the center of the bodice and the center front skirt are lighter than the sides and the sleeves.  There is a black sparkly overlay over the darker parts.  In the sunlight in that pic it is not as pronounced a difference as it really was.  The design also worked to draw the eye in…you can't see the top of the cfp but the design comes to a point like the bodice design.
The diva's next dress was a bit more dramatic.
This time we made more of an effort to draw the eye in by using black on the bodice & skirt sides and by making the bodice point down the center along with the long tapering design.  In fact the black was so successful that it looks as if the bodice is standing away from the offset skirt waist.  It is a 2 piece, but the bodice fit snugly so there was no space at the waist between the bodice hem and the skirt.  The long straight lines of crystals also help draw the eye in.
I did make this skirt very offset which means the "sides" of the dress were more than 2 inches forward of the diva's actual side.  This again tricks the eye into interpreting the front waist into a narrower width.
The longer, dropped, pointed bodice look is another tried and true device for altering the look of a thicker torso.  I wrote about making the pointed bodice here: Bodice/Jacket for 2-piece.  At the time that I made the dresses in that post, those were drop-waisted jackets…compared to now, they are high waisted, but I would make the same pattern alterations with a longer waist.  I know many people feel that the 2-piece dress makes dancers look thick.  I do not agree, because, in fact, there is no difference in the bulk of fabric that is in the waist area or at the point of bodice & skirt overlap.  There may be even less because there is no bodice/jacket fabric in the waist seam at all (just a single layer of cotton for the under-bodice).  The problem in the look comes when the bodice is poorly fitted so that it looks too big on the dancer or it cannot sit down far enough over the skirt.  I have never been a fan of the faux bodice point that is appliqued onto the skirt as I find the actual waist seam to be very obvious, which is why I like the 2 piece plus the fact the jacket can be removed in between dances to alleviate the sweat factor.  (That being said, I am working on an OTR with Susan and she wants to incorporate that faux point…I have to learn to never say never because it always comes back to bite me in the…)
Another trick is to direct the eye upward to the face by creating interest above the bust line.  You can do this with a collar design and/or a corset bodice look.  I wrote about my approach to the corset bodice here: corset-style bodice .
And that brings me to the design itself.  As I just wrote above, you can keep the eye away from the torso by keeping your embellishments above the bust line.  Another technique is to make sure that any design that comes down below the bust is thin or tapered…anything wide will just accent the dancer's width.
Ultimately, I am a big believer in making the dress that the dancer wants, making the dress that makes the dancer feel like a spectacular princess.  When she feels beautiful, she dances beautifully.  Over the course of my life as a performer, I had to wear some pretty awful & humiliating things because someone (choreographer, director, costume designer) forgot that embarrassing the dancers meant they would not dance their best…we tried, but when you feel like a stuffed gray sausage you tend to dance like one!
There is a new thread on Celtic Flame about stealing designs.  A dressmaking mom writes that another mom in her school told her she was wasting her time coming up with her own designs because there was so much to COPY on the internet.  When she first wrote, she alluded to a website that sells embroidery, so I wondered if she might be talking about Taoknitter Arts.
An answer that she just posted to another reply makes me think she is talking about my website.
Big sigh. 
Susan and I have hashed out the pitfalls of posting clear pics of the designs since I started.  She has dealt with this issue far longer than I have, and I respect her viewpoint, her advice and her experience.  I will not bore you, or myself, by re-visiting  the mental gymnastics (complete with teeth gnashing) that helped me arrive at the current presentation of the designs on my website.  If you look at it, I think you get it.
But, I do want to say that I know I take the risk of people copying things.  I have this tendency to believe that all folks are inherently honest and honorable.  I do, routinely, get blind-sided by self-serving idiots with an overdeveloped sense of entitlement, and I sometimes finally get really irked by stupidity and mean-spiritedness, but I have yet to see a change in my basic trust.  I now know what it sounds like when Susan shakes her head at me over the phone.
It would make me crazy to try to police things or try to find a more complicated way of managing the designs.  But let me be clear, copying a design is stealing and I am not shy about approaching the thief and making it public if I have to.  I did, by accident, see an exact copy of a dress I made for my daughter.  Susan designed it for us.  The design was never made available, but there it was, perfectly copied on someone else's dress.  When I contacted the overseas dressmaker, she was great about it, very sorry, and told me that the design had been given to her by the dancer. 
I get contacted rather often by dancers who send me pics of designs from other dresses, even BN dresses, wanting THAT design digitized.  Sometimes I get a design "created by the dancer" only to be led by the dressmaking gods to pics of the EXACT design on a finished dress…that blows my mind.  Once I explain that I will not copy because it is both unethical and illegal, they usually calmly explain that they did not know that and we go forward.  Only once did I not hear back after my refusal…I think that was embarrassment.
I do think most folks either do not know or really do not think about it.  One poster on CF wrote: " I think the problem is that most people don't equate "appropriating" someone's design as stealing because they don't physically take something.  It isn't like shoplifting where you actually take something in your hand.
It's more like cheating on a test.
Ask your friend if she encourages her dd to copy her neighbor's answers on exams in school. Why not? It is just what she did. She used someone else's work and passed it off as her own.
Ask her if she's going to brag about how she aquired her designs – Wow look what I copied off of the internet and I didn't have to pay for it! If someone asks her where the design came from, is she going to say "Oh I digitized it myself" or something equally evasive. If she's so proud of her cleverness, why not tell all?
Ask her if she thinks the TC will be happy if she finds out the design was lifted. Is she OK with her school being known as the one where it is OK to rip off other people's dresses?"
Interesting viewpoint.
Susan made me laugh when she pointed out that truly, the only thing I should worry about is if someone else's poorly digitized "copy" was thought to be mine!  Now that would be a drag!
There was also a point made by someone about using designs from a site on the internet.  She wrote: "While there are a couple of sites out there that have drawn up several dress designs specifically for irish dancing use, you have to remember then, that your dress won't be an original. Chances of running into another dancer with the same pattern are slim but just something to keep in mind. "
That mind set has never occurred to me!!  Yes, yes, I know that the conversation about whether or not a BN dress is really custom when they re-use designs in part or in whole pops up routinely.  But, it has always been my assumption that each dressmaker brings a totally different perspective to making a dress and so it will be rare that 2 dressmakers will use the same design the same way let alone the same fabrics.  In fact, what I love about my clients is that they always do something I did not envision.  Very often, they ask me to modify the designs by taking something out, putting something else in, taking it apart or trying something new with a piece of something else!  I love it.
Still, I guess that is a concern for some people.  I appreciate that.  And I also thoroughly appreciate my creative dressmaking clients.  Thank you for spurring me on!
I thought that the above might have been a rant…I guess it was just a bit of mental popcorn…
There are a couple of links in this brief post about Copyright Law: Substantial Similarity.